FOR IMMEDIATE RELEASE
Acoatica's adventure at Parc Découverte Nature is now officially launched!
Coaticook, July 13th 2021 – Parc Découverte Nature officially reveals Acoatica, this new interactive survival adventure! This huge video game aims at creating a large reef of fish by collecting as many points as possible in the various indoor and outdoor adventures.
« Acoatica is a unique experience in Quebec. These are 5 great adventures combining high-performance technology and the outdoors in a fun and educational atmosphere, without forgetting to highlight the gourmet aspect of our wonderful region! We have collaborated with Arcane Technologies and Tessier Récréo-Parc, Quebec companies who have been willing to participate in this massive adventure filled with strangers "says Caroline Sage, director of Parc Découverte Nature and Parc de la Gorge de Coaticook
"We are extremely proud to have had the opportunity to experiment this major project, to have collaborated with the Park's team who were not afraid of anything and who trusted us! From the beginning of the project, it was clear that we needed to create a Wow effect with this new unique interactive adventure, putting in place the technological means to push the limits of this unique environment. " Said Mathieu Benoit, CEO of Arcane Technologies, the company that designed the video game.
According to Marie-France Tessier, general manager of Tessier Récréo-Parc, designer of electronic game modules, "This unique project certainly brought us out of our comfort zone by integrating electronics, but it was worth the effort! We are proud of this conception and visitors will have a breathtaking experience. We loved working with all the partners. Teamwork and unity with the client brought the fun aspect to an invaluable level when we first met! "
What is Acoatica?
Each visitor will receive a allied bracelet upon arrival which will allow them to follow the progress of their team through the various challenges offered.
The immersive adventure dives visitors in Quebec's watercourses without getting wet. Visitors must participate in maintaining the balance of the aquatic environment by preventing dangers occasionally finding themselves above water and other times underwater.
The playful adventure is a technological and interactive journey. Each game module will challenge physical and intellectual skills. The team member's best score will be counted and considered in order to enlarge their bank of fish.
The fishing adventure is an opportunity to apply the fishermen skills through interactive games but also in action around two ponds stocked with rainbow trout and speckled trout. This environment is in fact also the ideal place to introduce the younger ones. The equipment is loaned and the fish are cleaned in order to eat them directly on site or bring them home.
The gourmet adventure allows visitors to become Acoatica's great chef, cooking their catch, seasoning them with locally flavored oils and/or spices and accompanying their fish meal with vegetables from local producers. On site, picnic tables were decorated with games (tic-tac-toe, maze, etc.) with which children may play while enjoying their meal.
The survival adventure will allow you to understand the stages from rearing up until the release of endangered fish species. Recognized for its advanced technologies, the fish farming station is a fascinating world to discover. It is also the starting point for a "search and find" game that will take you to explore our enchanting site!
"Throughout its development, this activity has been adapting to the constant flow and today, we can confirm that it is mission accomplished! Throughout the process, the financial partners allowed us to push the limits for an optimal experience! We are proud to have partners who believe in our projects. Acoatica is a large-scale project that required an investment of nearly $ 3,000,000, "adds François Lajeunesse, Chairman of the Board of Directors of Parc Découverte Nature and Parc de la Gorge de Coaticook.
The involvement of the Quebec Government through the Ministry of Tourism, Ministry of Municipal Affairs and territory management, Desjardins (Caisse des Verts-Sommets de l'Estrie), Parc de la Gorge de Coaticook, the Government of Canada via Canada Economic Development, the Tillotson Fund, the City of Coaticook, the MRC of Coaticook as well as Tourisme Cantons-de-l'Est have been essential and great partners for the creation of Acoatica.
About us
The Parc Découverte Nature (decouvertenature.qc.ca) is a non-profit organization welcoming more than 9,000 visitors annually. In 2021, the site enhanced its offer through Acoatica, this interactive survival adventure. In winter, ice fishing is a must!
Arcane Technologies is an engineering firm specializing in interactive and emerging 3D technologies. Virtual reality (VR), augmented reality (AR), and interactive 3D are a few examples.
Tessier Récréo-Parc has been in business for 35 years, the company stands out by offering creative and personalized spaces distributed for parks, schools, childcare centers, etc.
– 30 –
Source and information
Josée Petit, Marketing & Animation Manager
819 849-2331 ext 230
jpetit@gorgedecoaticook.qc.ca
400, St-Marc Street, Coaticook, Quebec J1A 2M3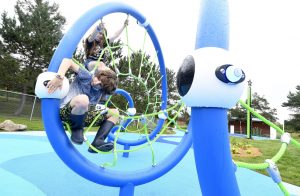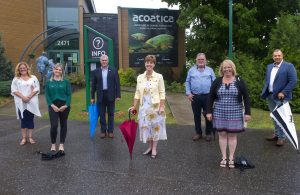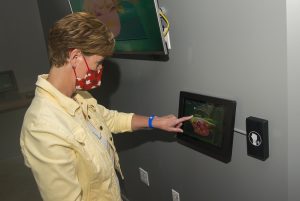 From left to right
Picture 1 – Fun adventure in Acoatica at the Parc Découverte Nature
Picture 2 – Fun adventure in Acoatica at the Parc Découverte Nature
Picture 3 – From left to right
Caroline Sage, Director of Parc Découverte Nature and Parc de la Gorge de Coaticook
Lysandre Michaud-Verreault, Head of Public Relations and Corporate Communications at Tourisme Cantons-de-l'Est
Simon Madore, Mayor of Coaticook
Marie-Claude Bibeau, Minister of Agriculture and Agri-Food and Member of Parliament for Compton—Stanstead
Bernard Marion, Warden of the RCM of Coaticook
Manon Fournier, Political Assistant and Director of the constituency office of Geneviève Hébert, Member of Parliament for Saint-François
Francois Lajeunesse, Chairman of the Board of Directors of Parc Découverte Nature and Parc de la Gorge de Coaticook.
Photo 4 : Immersive adventure in Acoatica at Parc Découverte Nature
Photo 5 : Immersive adventure in Acoatica at Parc Découverte Nature